Hi, all!
My best friend came to visit (all the way from Bangkok!) during the Hari Raya holiday weekend, and it is mandatory for us to dress-up and hangout at a mall where we can potentially shop, HAHAHA.
But right before that, I followed my parents to one of our favourite thrift shops for a quick round of shopping, hehehe.
I had a pretty decent haul this time too, which I will wear and blog about eventually.


It was a scorching hot day, so it gave me another opportunity to wear another cropped top from a previous thrift-shopping trip!
This time, my top is actually closer to a bralette; I found whatever courage I have left from my previous cropped-top attempt to look like this in public WTF.
Top: From a thrift store
Skirt: H&M
Flats: Birki's by Birkenstocks (from a thrift store)
Vintage bag: Gianni Versace
Vintage earrings: Miriam Haskell
STYLE TIP: For a sweeter take on trend, I'd prefer to pair my cropped top with a flowy maxi skirt for more grown-up-femininity, instead of denim cut-offs that's more music-festival-ready.
I'm actually quite happy with this look!
I didn't expect to like it as much as I did, because I generally feel way more conscious about exposing more skin (especially my belly HAHAHAHAHA *shies away*), but I survived this!
So will I attempt this look again?
Of course, because it is crazy comfortable!
But probably with less skin because I feel naked when the breeze blows throw my tummy WTF.
Here's the usual selfie for a close-up on my gorgeous chandelier earrings and the floral print on my top:
And here are the earrings on their own: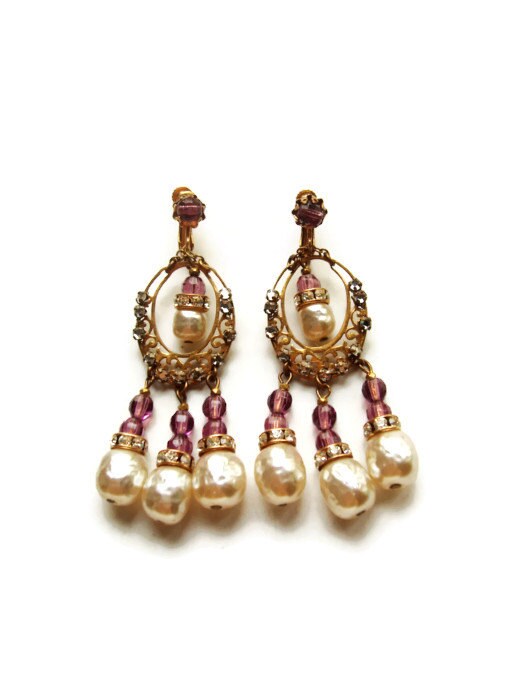 I'm actually still quite surprised at myself for purchasing more cropped tops these days now that I'm entering my thirties, and it's pretty amazing to know that they were actually worn and not stuffed at the back on my closet like where they would normally end up.
I was never one to take more extreme fashion risks when there is an existing prejudice; I always thought cropped tops make me look stumpy because I'm plump so I avoided them like the plague).
Just never thought I'd be sporting cropped tops now instead of my twenties.
*nervous laughter*
Well, I guess there is a first time to everything!