I love playing with colours in my wardrobe although I'm used to sticking to basic neutrals, but no one can deny my love for the darker side of yellow.
There is enough vividness in this shade but nothing too crazy for every day wear, which is exactly why I decided to go for it, head-to-toe!
I wish I had yellow shoes, but metallic gold works well too, in my opinion, hehe.

Also, the Malaysian weather has been fantastic for sweaters lately, and I cannot be happier!
Sweater: Jill Stuart (from a thrift store)
Shorts: From a thrift store
Flats: Chloé
Bag: Marc Jacobs
Vintage necklace: Chanel
I recently developed this really bad habit of forgetting to take my outfit photos when there is good daylight, but only remembering to snap them much later in dimly-lit areas.
*sighs*
I really need to step up to my fashion-blogger-wannabe role, but I honestly don't mind it that much as long as people can see how I incorporate vintage jewelry into my outfits, since that is the reason I'm doing this in the first place, haha.
So here is the necklace I wore in this outfit, in its full glory: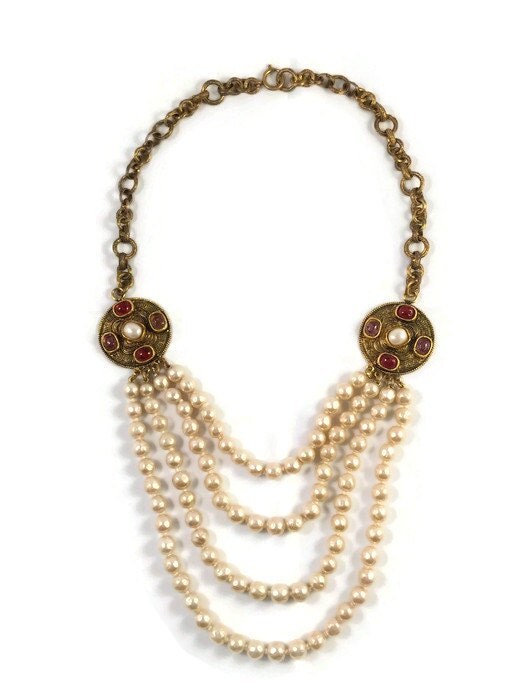 And here's a shameless selfie that I sent to my best friend in Bangkok, to help illustrate how I wore the fabulous vintage necklace today:

STYLING TIP: Necklaces can be worn in so many ways, not just upright! I like shifting them around so that it looks special and unconventional. Here, I adjusted and hid one of the medallions in my turtleneck, making it look like I'm wearing a really gorgeous chatelaine pin!